| | |
| --- | --- |
| | |
| Subaru Outback | Honda Pilot |
Comparing Popular Features of the 2022 Subaru Outback and 2022 Honda Pilot
There is no better option than an SUV for drivers looking for a spacious cabin and dependable performance. Being able to tackle any conditions and ensuring you have the innovative features you're looking for, the 2022 Subaru Outback and 2022 Honda Pilot have risen to the top choices. We want to give you a better idea of which you should choose for your driveway.
When you're looking for a vehicle that suits your needs, the 2022 Subaru Outback is dependable and capable. There are many features and options to add to this model, making sure the 2022 Outback will have everything you need for the road ahead. The Outback continues to provide an affordable price while having popular features that drivers will love.
Another top choice is the 2022 Honda Pilot. It has many convincing reasons for it to be your next vehicle. With many exciting features, an attractive design, and powerful engines, you might be considering the 2022 Pilot, but the 2022 Outback still comes out on top in many ways. We put a comparison together to help you be confident you choose the model that has everything you're looking for.
The higher starting price of the 2022 Honda Pilot does not mean it comes with more or that it is a better option. Our team wants to show you how Subaru has given the 2022 Outback many of the most impressive features without making it too expensive. After reading our comparison, feel free to reach out to our experts with any questions you have left!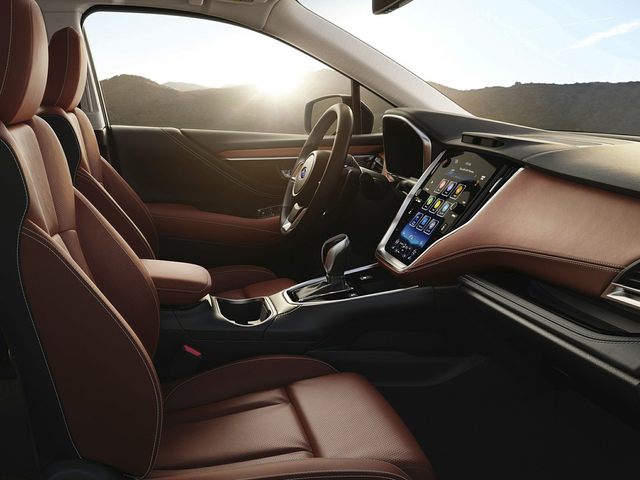 2022 Subaru Outback vs 2022 Honda Pilot
With a starting price of $26,945, the 2022 Subaru Outback comes at a better price than the 2022 Honda Pilot, which starts at $39,060.
There can be more torque in the 2022 Subaru Outback with its upgraded engine than the 2022 Honda Pilot can have.
The 2022 Subaru Outback comes equipped with Subaru Symmetrical All-Wheel Drive, something you need to upgrade the 2022 Honda Pilot to include.
If you are looking for more ground clearance, the 2022 Subaru Outback has more ground clearance to handle more adventures than the 2022 Honda Pilot.
LED Steering Responsive Headlights are equipped on the 2022 Outback and are available for the 2022 Honda Pilot.
Roof rails are standard on both models to pack all your favorite gear, even when it doesn't fit inside your 2022 Outback or 2022 Pilot.
The 2022 Subaru Outback has a sleeker design that is shorter and narrower than the Pilot is, giving a less bulky model to control through every parking lot and street.
Both models give Apple CarPlay® and Android Auto™ integration as standard, allowing drivers to have straightforward access to their favorite apps and media.
An eight-inch screen is equipped on every 2022 Honda Pilot, but the 2022 Subaru Outback has the option for an 11.6-inch screen.
Both models come with a wide range of driver assistance features that keep you feeling confident on busy roads when you choose the 2022 Outback or 2022 Pilot.