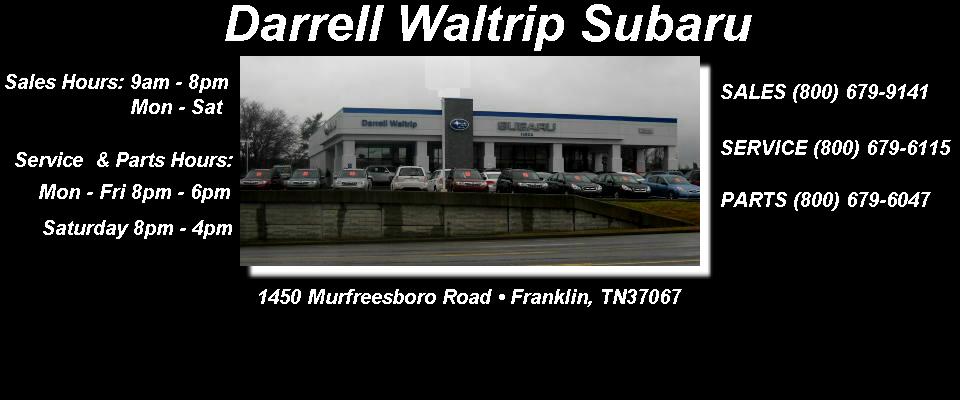 Don't Trust Anything Less Than the Best When Looking for Subaru Parts
We know that you want a vehicle you can trust during every drive. We will work with you to see how genuine Subaru parts are the best way to keep your vehicle running its best. Our Subaru experts are here to answer all your questions to make sure you can find the parts you'll need for every road and highway on your route. We look forward to showing you everything our parts department can offer.
We encourage you to reach out to our dealership to learn more about genuine Subaru parts.
The Benefits of Genuine Subaru Parts Over Aftermarket Parts
Choosing our parts department ensures you will find parts directly from Subaru, allowing them to be a perfect fit for your Subaru Car or SUV. Aftermarket parts might not be the perfect fit and might not be as dependable as a part that is from the same manufacturer as your vehicle. When you want to make the most of your Impreza, Forester, Outback, or Legacy, be sure to choose a genuine Subaru part from our Subaru parts department.
Ordering Parts has Been Made Easier than Ever Before
Our online ordering form lets you tell our team everything we need to know about what you are looking for. It only takes a few pieces of information, and even fewer minutes, to fill out this form. We'll get the parts ready for you to pick up and will help you get back to enjoying the time you spend in the driver's seat. Feel free to reach out to our team if you have any questions about Subaru parts.
You will be able to search through the available parts on our website to ensure you will find exactly what you need. No matter if you are looking for oil filters, brakes, lights, belts, or other parts, our team is sure that we can offer what you need for the best driving experience.
Genuine Accessories for Your Subaru
Subaru models are known to be capable and dependable, which is what makes them a great choice for nearly any adventure. You might want accessories to help bring the gear you need for your adventure, and genuine Subaru Accessories are among the most trusted you can find. These accessories are made specifically for your vehicle, making each a perfect fit.
You can find accessory specials - as well as all Subaru part specials - listed on our website. Our specials help you find everything you need at the most competitive price. You shouldn't need to stress when it comes to adding parts to your vehicle, and our team will help with that.
Contact Our Team with Any Questions About Ordering Parts for Your Subaru
Our team is here to help you get everything you might need for the road ahead. We will ensure your Subaru continues to perform its best, never leaving you to guess if an aftermarket part is the right fit or how long it will last. Our experts will take the time to show you everything that we offer, making our dealership a one-shop stop for all your automotive needs.