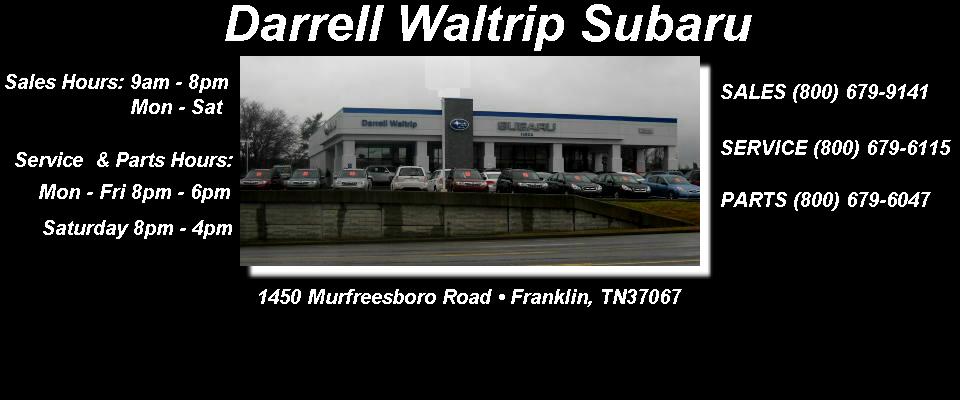 Choose Genuine Subaru Parts from Darrell Waltrip Subaru to Trust Your Vehicle
While there are many auto shops in Franklin, they don't all come with genuine Subaru parts. Shopping with Darrell Waltrip Subaru lets you find some of the most reliable Subaru parts directly from the manufacturer. Designed to be the exact fit for your Subaru car or SUV, we're sure we can help you find exactly what you're looking for. We can show you our range of options and make sure you always enjoy the time you spend driving.
Feel free to call, email, or visit our dealership with any questions about Subaru parts. Our experts will work with you to find any part or accessory you need for your Subaru.
Top Reasons to Choose Subaru Parts Instead of Aftermarket Parts
Our Subaru Parts Department gives you a direct line to genuine Subaru parts for your vehicle. Aftermarket parts might sound attractive at first, but genuine parts have been thoroughly tested to ensure durability. Aftermarket parts for your Subaru Impreza, Outback, or Legacy aren't guaranteed to be the perfect fit, but our team makes sure you will find the right parts when you shop with our team.
Order Parts Online for Easy Access to Everything You Need
Ordering online through our parts department means you won't need to leave the comfort of your home to find the Subaru parts you need. You only need a few pieces of information and some spare minutes of your day to order the parts you need. We'll make sure you know every detail of the parts you're interested in and have them ready for you to pick up at our dealership.
Our website lets you browse the selection of Subaru parts to find filters, brakes, lights, belts, and more to help you find what you need for the road ahead. We'll keep your vehicle running its best and performing how you want.
Subaru Accessories to Fit Your Every Need
The genuine Subaru accessories at our dealership can fit any driver's needs. We're sure you can find what you need with pet-friendly accessories, racks for any of your gear, comfort and convenience options, and audio systems. Genuine Subaru Accessories share many of the benefits of Subaru parts, ensuring you'll find one that is perfect for your vehicle.
Our team can help you explore accessory specials alongside parts specials to find anything you want at a competitive price. Search our parts specials online to learn more about what we offer and how you don't need to stretch your budget for parts and accessories.
Reach Out to Our Team to Learn More About Genuine Subaru Parts and Accessories
Our experts are happy to answer any questions you have about Genuine Subaru Parts and how they might be right for you. We look forward to working with you and making sure your vehicle will continue to perform the way it did when it came off the production line. Feel free to look through all our parts and see that our team can help you find everything you need for your vehicle.
Take the short ride from Nashville to find a Subaru dealer that provides genuine Subaru parts. We don't think you should settle for parts that won't last as long as you need them and won't give you the best performance, which is why we encourage you to choose our dealership for all your Subaru parts and accessories. We're excited to show you how your Subaru can continue to perform its best for years to come.