The 2021 Subaru Love Promise Community Commitment Award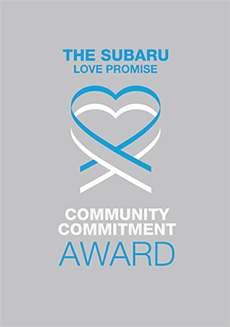 We've been nationally recognized for our dedication to our community and the Subaru Love Promise.
We're honored to receive the 2021 Subaru Love Promise Community Commitment Award. This award nationally recognizes Subaru retailers who are making the world a better place while demonstrating an outstanding commitment to supporting passions and causes in local communities. These efforts are focused in important areas such as the environment, community, health, education, and pets.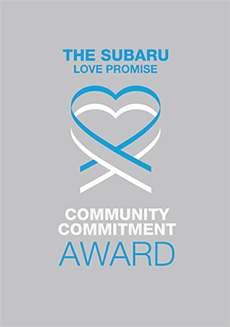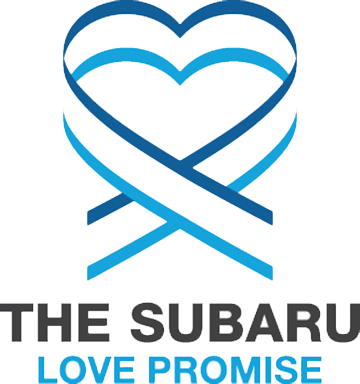 What is the Subaru Love Promise?
Subaru and our retailers believe in making the world a better place and the Subaru Love Promise is our vision of respecting all people. This is our commitment to show love and respect to our customers and to work to make a positive impact in the world.
How is Darrell Waltrip Subaru dedicated locally to the Love Promise?
Our Love Promise can be seen in various partnerships with local charities and non-profits. We're grateful for the opportunity, not only to be a part of our community, but to serve it as well.
Williamson Co. Animal Shelter, Nashville Humane Association, Happy Tales Humane Society
Harpeth River Watershed, Williamson County Parks and Re
Williamson Co. Schools, High Hopes Inclusive Pre-Schoo, College Grove Recreation, Franklin Lions Club
Fisher House, Habitat for Humanity, Franklin Tomorrow, Challenged Athletes Foundation, VSA Tennessee
Vanderbilt LifeFlight, St. Jude Children's Hospitals, Mercy Health Services, Foundation Fighting Blindness, Williamson Medical Center
Love Promise Stories from Darrell Waltrip Subaru
Subaru and Darrell Waltrip Subaru believe in making a positive impact on the communities in which we live and work. We uphold that belief through our Love Promise Community Commitment. Every month, we select inspiring stories from customers and partners from around our area who strive to support our collective commitment and feature them here
Deaf pup defies the 'underdog' stereotype - Debbie S
Williamson County Animal Center was pleased to team up with Darrell Waltrip Subaru of Franklin, TN for the October 2020 Subaru Loves Pets campaign. Focused on the 'underdogs', the campaign highlighted the older and physically challenged pets that are often the last to be adopted. Subaru of America. Inc. and Darrell Waltrip Subaru committed to donating $100 for every pet adopted at our shelter in October, up to $3,100 in total. With the help of Darrell Waltrip Subaru, we were able to meet that goal in the first two weeks of the month! One of the special dogs adopted during the campaign was an underdog named Hickory, a sweet Ridgeback mix who happened to be deaf. Before coming to our shelter, Hickory had spent most of her life in a fenced yard with no communication, and she was both isolated and agitated. Labelled as an escape artist, Hickory's owners decided not to take her to their new home, and she was surrendered to our shelter. She was shy at first, but quickly warmed up to our staff and volunteers, who began to teach her hand commands. What a breakthrough and a life changing moment for this sweet pup! She caught on quickly to hand commands, and began to show her calmer, more confident self. Because of her deafness, we thought she would do best in an adoptive home with no small children surprising her from all sides; as well as a home where deficits are embraced and celebrated. Finding an adopter for a deaf dog can take months, so we settled in for the wait. However, after only a few days, a wonderful local couple that had just relocated to our area saw Hickory's profile online and came to meet her. One of them knew sign language and the other had a slight visual deficit, so they had a real heart for underdogs like Hickory, and an instant understanding of the challenges deafness presents in a dog. It was love at first sight! Hickory is now thriving in her new home and continues to learn more hand commands. Her owner says Hickory came along at just the right time and makes their family complete. She cuddles up on the couch craving human companionship, but also goes to the dog park and for long walks. What a wonderful life! Thank you Darrell Waltrip Subaru for supporting the underdogs and for fulfilling your Love Promise-Subaru Loves Pets!
---
Darrell Waltrip Subaru Helps After Tornados - Jessica P
When a tornado devastated parts of Nashville on March 3, 2020, leaders at the Darrell Waltrip Subaru knew they wanted to do something big to help with the recovery effort. The company donated $120,000 —its largest ever one-time gift — to Hands On Nashville to support its mission to meet community needs through volunteerism." We have been following along with Hands On Nashville's efforts for years," says John Gallagher, Vice President and Executive General Manager of Darrell Waltrip Automotive Group. "And knowing that recovery from the devastating tornados would take months — if not years —we knew it would require lots of volunteer hours. Hands On Nashville seemed like the perfect fit for our donation." The donation directly supports ongoing tornado-relief efforts, including paying for supplies and staff salaries spent on disaster-recovery activities. "The support from the Darrell Waltrip Automotive Group is a game-changer for our tornado-relief efforts," says HON President and CEO Lori Shinton. "Those funds are going directly to recruit and manage volunteers who are doing the important work of helping people put their lives back together after a major disaster." For more than 25 years, Darrell Waltrip Automotive Group has had an active role supporting Middle Tennessee charities. From being the first corporation to enroll in Waves Office Recycling Program, to assisting those who lost their vehicles in the 2010 flood, to now supplying personal protective equipment to Williamson Medical Center –DWAG aims to be a company that cares about helping others. Gallagher says the company focuses much of its outreach and resources into two major programs, Hometown Heroes and Darrell Waltrip Automotive's Drive Away Hunger Challenge. Hometown Heroes is a program honoring those who have shown a commitment to serving others and making a difference in their community. Community members nominate individuals, and each month a new hero is selected by DWAG, which makes a $500 donation to the charity of that hero's choice. "One thing we learned through our Hometown Heroes event is just how many amazing people are at work in our communities, and how they are making a difference in big ways," Gallagher says. This spring DWAG had planned to celebrate their 100th hero, but, due toCOVID-19, plans have been tentatively postponed until May 2021.The company created Drive Away Hunger in 2013 as a fundraising event partnering with Williamson County high schools and GraceWorks. Through Drive Away Hunger, hundreds of thousands of pounds of food have been collected and donated to food pantries throughout Williamson County. The initiative has since expanded to include the Franklin Special School District and Williamson County elementary and middle schools. "We are proud of all we have done in the community, and thankful for our customers who make it all possible," Gallagher said.
---
Local Volunteer Honored - Jessica P
Along with raising her family and working, Jodi Rall is committed to volunteering and helping her community wherever she can. She serves on the Brentwood Historical commission, volunteers at the Brentwood YMCA, at her church Brentwood United Methodist Church, with the Children's Miracle Network and Monroe Carell Jr. Children's Hospital at Vanderbilt. Recently with the city of Brentwood's 50th anniversary, Jodi helped raise enough funds for an all-inclusive playground in Brentwood. In honor of all of this and more Jodi was recently named a Darrell Waltrip Hometown Hero.
---
DW Subaru Supports Employee Recovering From Crash - Jessica P
Rachel, an employee of Darrell Waltrip Automotive Group for 12 years, recently had a motorcycle accident and was hit head on by a car. She suffered internal bleeding, 20 broken bones and multiple fractures in her pelvis. She has had five surgeries to repair all the damage to include receiving six units of blood and four units of platelets and titanium rods, plates, and screws in her pelvis, left leg and right arm. When we asked Rachel what she needed, her only answer was donate blood. "I received blood in the ER that saved my life and I want to make sure other people get this life saving measure." Rachel is an active donor for the Red Cross after a good friend of hers was in an accident and had received nine units of blood. She recognized the need for her blood type and started actively donating in the summer of 2018. She was looking forward to reaching her gallon mark before her accident. During our recent blood drive for the American Red Cross we collected 53 pints of blood which will go to 159 patients in the Nashville area.
---
Make a Dog's Day - Andy A
Subaru is proud to establish the first-ever National Make A Dog's Day October 22nd. As part of Subaru Loves Pets month, we're inviting all dog lovers to do something extra special for their furry best friends. Plus, Subaru will be focusing our efforts on helping the hardest-to-adopt shelter Dogs –those with special needs-find homes. Get ready to fall in love withThe Underdogs. #MakeADogsDay Meet Gabi! Gabi has been at the Humane Society of NWGA (Northwest Georgia) for seven years. If you asked the volunteers to pick their favorite animal at the shelter, Gabi would win hands down. She does not do well with dogs or cats so must be the only animal in an adult only family. She loves people and will bond very quickly to you. Gabi would make someone a great companion. She is waiting patiently for her forever home. If you have room in your heart and your home for this sweet girl then please fill out an adoption application, highlight and right click this link: https://hsnwga.org/adoption/application-for-adoption/?fbclid=IwAR2Ie18p6U3ryKi-niIuIZFTd-waD98xrySl7IJmiRBXE239WP7dpODubiU #MakeADogsDay #SubaruLovesPets #TheUnderdogs
---
The Vehicle That Saved My Life - Leah G
Hello, My name is Leah Grams Johnson and I am an independent artist in Nashville, TN. I want to share my story with you. In the spring of 2017, I purchased my first Subaru. It was an ivory white 2014 Outback, and my personal "tour bus" as a one-woman-show. I remember the sense of pride I felt the first time I drove it, past old farm houses and rolling Tennessee fields. The vehicle was used but brand new to me, and I lovingly named it "Pearl." Three weeks later, I embarked on a summer-long tour, from Nashville to Northern California. I was chosen as a finalist in the Telluride Bluegrass Festival's songwriting competition, where I performed on the main stage and camped with hundreds of other music lovers in the Town Park. On June 18, 2017, I packed up Pearl to continue my solo journey, the beautiful mountain town of Telluride in my rear-view mirror. Highway 145 in Southwest Colorado is a magnificent mountain road— winding between cliffs and rivers. I was fatigued from the past week and hoping for a place to pull over and rest, but there was none. My eyes fluttered closed for several seconds. The next thing I can recall was losing control of my vehicle, and my beautiful Pearl rolled three times. The feeling of spinning through the air was surreal, and I remember thinking the words, "no, no, no," and, "when am I going to stop moving?" Then the powerful impact of the car hitting the vertical rock cliff on the side of the road, and the movement stopped. Suspended upside down, I unbuckled my seat-belt and crawled out from under my unrecognizable car (see attached photo). Several strangers were running towards me and wrapped their arms around me, crying and amazed that I was still alive. The pure kindness for me in that moment was something I will never forget. I pulled my guitars from the shattered glass throughout the backseat and sat down in the grass across the road, staring in shock at the wreckage, unable to speak. I remember watching soft white tufts drift from the cottonwood trees while thinking how quickly everything can change. That night I stood in the shower and washed broken glass from my hair, with only a scratch across my chest where the seatbelt held me in place. After the accident, I still had miles to cover and songs to sing. Friends and family made great strides to get me from Colorado to the West coast, and with help from my father, I was able to find a used 2013 Outback in my hometown in Northern California. There was absolutely no hesitation in my purchase of a second Subaru— the car that saved my life. This one is green and her name is "Sage".The first time I got back on the road, my body remembered the intensity and trauma of the crash. However, the feeling of security my vehicle provides has helped me heal— transforming my trauma into gratitude, wonderment, and hunger for the wild unknown territory of my own journey. As a songwriter, music is how I capture the experiences in my life. How I express my innermost emotions and perception of the world around me. With this letter I have also attached a link to one of my original songs, and I feel it could be of value to your company. Though I wrote and recorded this song before the wreck occurred, it has taken on a new meaning. The song is about the joy I feel once again, driving through rolling countryside, big-city interstate highways, breathtaking mountain roads, and steep red canyons. The "You" in this song could very well be my Subaru. https://soundcloud.com/leahgramsjohnson/everywhere Your vehicle saved my life, and I want you to know how grateful I am. From the deepest place in my heart, thank you. Humbly yours, Leah
---
Hometown Hero - Luke Jenkins - Luke J
What started in Kindergarten as a desire to win a class pizza party has turned into a true passion for high school freshman Luke Jenkins. Over the past nine years Luke has collected over $3,800, 75% in pennies, for the Leukemia and Lymphoma Society as a part of their Pennies for Patients program."Our next door neighbors, the Riveras, lost their teenage daughter, Dariana, to cancer when Luke was in the 3rd grade," shared Luke's mother Michelle Jenkins. "I think that's when it started getting closer to our hearts as we learned along his path many stories about Leukemia and Lymphoma. Even the GREAT Tom Landry for whom Luke's sister was named after died of Leukemia. Although it is the largest childhood disease of all the cancers, we have learned of many adult stories, too. We have made countless trips to the CoinStar Machines inside the local Kroger during the fundraisers. All donations go straight to the Leukemia and Lymphoma Society at NO charge!"
---
Hometown Hero - Jon Boye - Jon B
Jonathan Boye grew up struggling with dyslexia and ADHD and with the "faith of a mustard seed" he found himself helping thousands of people with similar struggles."Jon has been a visionary for providing mental health services first to our children in Williamson county but now to all ages in all of middle Tennessee," shared Margaret Owens, Chief Operations Officer at Mercy, in her nomination of Boye. "He came to work at Mercy in June of 2006." 10 years ago this summer. He was brought in to start a behavioral health department to serve the children of Franklin and Williamson County. Mercy now sees adults and children from over 33 counties in middle Tennessee. The behavioral health department that Jon build now has 14 licensed therapists, 1 psychiatrist and 3 psychiatric nurse practitioners. Jon has placed therapists in New Hope Academy, Winstead Academy and now in the Fairview schools."
---
Hometown Hero - Dr. Headrick - Donnie H
In honor of the countless lives he has impacted during his 40+ years as a practicing vet, Doctor Donnie Headrick was recently named a Darrell Waltrip Automotive Group Hometown Hero."Donnie has gone out of his way time and time again not just for us but for people all in the community," said Darrell Waltrip about Dr. Headrick, his personal vet of 20+ years. "I could tell you stories about things he has done. He's a special man and this was a big honor for me to have him here and present him with this trophy."As a part of his award a $500 donation was made to CASA (Court Appointed Special Advocate) and The Davis House Child Advocacy Center."It's been said that children are our nations greatest asset and I believe that," shared Dr. Headrick. "I think they are our county's greatest asset. We're in a little bit of a bubble here in Williamson County and we don't always know there are children around us who are hurt. These organizations, that's what they are here for. I think they do a wonderful job. They're a safety net for kids that fall through the cracks and they exist to help these kids and let them know someone cares about them.""The impact of support from people like Dr. Headrick and Darrell Waltrip goes far beyond the financial contributions," said Ondrea Johnson, Director of Development for CASA. "From that one day, both Mrs. Headrick and Mrs. Waltrip have volunteered for CASA. Other community members have heard about CASA and the need of children in our community, we've gained a partner in the fight for the children of our County, and formed relationships that will outlast the day. When community heroes believe in our work, it benefits us all, particularly the children we serve.""Davis House relies heavily on community support and the generosity of individuals," Marcus Stamps, Executive Director of The Davis House. "The investigative and healing services we provide are critical for the well-being of the children and families we serve, both short and long term. Dr. Headrick and Darrell Waltrip represent individuals and organizations coming together to help the children in our community.
---
Hometown Hero - Wilson Family - Jennifer W
"I can't think of anyone who embodies the qualities of a hero more than Jennifer," shared Gail Horton, a dear friend of Jennifer's and her inspiration for exploring foster parenting. "She is a champion for the least of these, the children who are medically fragile and in foster care. Jennifer advocates for these children as if her life depends on it! She is a champion for the children that are in her care. There are some weeks where she spends more time talking to doctors, taking kids to therapy than she is at home. The days at home are filled with sick babies who she rocks and loves on. She not only loves on these babies but also mentors, coaches and empowers the birth families who have not been able to care for their own children. The Wilson family is sacrificial in their giving. Brad, Trent, Liana and Nolan have been a Super Bowl winning team when it comes to working at a calling that God has put on their hearts. I am so proud and privileged to call them my friends."
---