Begins on January 1st of the vehicle model year. This warranty shall end 10 years from the effective date or when 100,000 miles are registered, whichever comes first.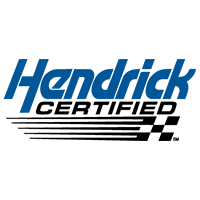 Program Coverage Details
Steering
Suspension
Air Conditioning
Electrical
Fuel System
Electronic High-Tech
Brakes
Heating/Cooling
12 Month/12,000 Mile High Coverage*
The Hendrick Certified Program also includes High-Tech Coverage, which begins on the date of purchase and continues up to 12 months or an additional 12,000 miles are registered on the odometer, whichever occurs first.
Program Details
Repair Requirements: Please return to your Hendrick selling dealership or an affiliate for covered repairs
You are always covered: Even when you're travelling and a repair cannot be made by your Hendrick selling dealership or their affiliate, you will be directed to an authorized repair facility for your covered repairs.
Maintenance Requirements: Your vehicle must receive all scheduled maintenance services recommended by the Manufacturer's Owner Manual and you must retain copies of all completed repair orders showing the maintenance services performed during the coverage period.
Deductible: A $50 per repair visit deductible will apply.
*For complete information concerning terms, conditions and exclusions please refer to the Hendrick AutoGuard limited powertrain warranty.
Engine
All internally lubricated parts, including; pistons, pins and rings, connecting rods and bearings, crankshaft and main bearings, camshaft, followers and cam bearings, push rods, valves, springs, guides, seats and lifters, rocker arms, shafts and bushings, timing gear, chain or belt, tensioners and retainers, eccentric shaft and oil pump. Engine head(s) and engine block if damaged by the failure of an internally lubricated part. Also covered are the following; water pump, thermostat, oil pan, oil sending unit, intake and exhaust manifolds, engine mounts and cushions, engine torque strut, timing cover, valve cover(s), harmonic balancer, flywheel (flexplate) and flywheel ring gear, vacuum pump, dipstick and tube, all pulleys/tensioners, all internally lubricated parts of the turbocharger/supercharger, including wastegate vanes, shafts and bearings, seals and gaskets. The turbocharger/supercharger housing is covered only if damaged by the failure of an internally lubricated part. Rotary Engines; rotor chamber, main shaft bearing, rotor, and all internally lubricated parts, seals, and gaskets.
Transmission
(Automatic or Manual) Transmission case, transfer case, torque converter, all internally lubricated parts contained within the cases, filler tube and dipstick, vacuum modulator, transmission mounts, transmission cooler lines, seals and gaskets.
Drive Axle
Differential housing, transaxle housing, final drive housing, all internally lubricated parts of the foregoing, axle shafts, constant veloocity joints, universal joints, drive shafts, locking hubs, hub bearings, locking rings, supports, retainers and bearings, seals and gaskets.
Your Plan Also Includes:
24 Hour Roadside Assistance:24-hours a day and 7 days a week round the clock assistance! Roadside Assistance benefits pay up to $100 per occurrence for covered roadside assistance.
Gasoline Delivery: We will arrange for delivery of an emergency supply of gasoline (up to two gallons). You will be responsible for actual cost of gasoline when they are delivered.
Flat Tire Change: Service is provided to remove the flat tire and replace it with your spare tire.
Battery Jump Start: A jump start will be applied in attempt to start the covered vehicle.
Towing: When required as a result of mechanical failure, the covered vehicle will be towed back to the selling dealership if within 50 miles, otherwise to a licensed repair facility in the U.S. or Canada.
More Limited Powertrain Program Offerings in Middle Tennessee
| | | | |
| --- | --- | --- | --- |
|   |   |   |   |
| If your vehicle breaks down, due to a covered mechanical failure, while traveling over 100 miles from home, you will be reimbursed up to $75 per day for a maximum of $375 per occurrence. Covered expenses include hotels, transportation and food. | Hendrick Certified Pre-Owned has you covered! If your vehicle breaks down, due to covered mechanical failure, you will receive vehicle rental coverage up to $30 per day, with a maximum of 5-Days, not to exceed $175 per occurrence. | Hendrick Certified Pre-Owned Vehicles must meet strict requirements in regards to their condition. Each Hendrick Certified Pre-Owned Vehicle is put through a comprehensive 168-point vehicle inspection. A trained dealer service technician checks virtually every part of the vehicle - inside and out. | Every Hendrick Certified Pre-Owned Vehicle comes with a free CARFAX® Vehicle History Report. Since its inception in 1986, CARFAX® has built a database of more than 7-billion records that document whether a vehicle is a lemon buyback, has been salvaged, damaged by flood, used as a taxi or rental car, had its odometer rolled back, as well as other pertinent facts that may affect the vehicle's safety and value. |