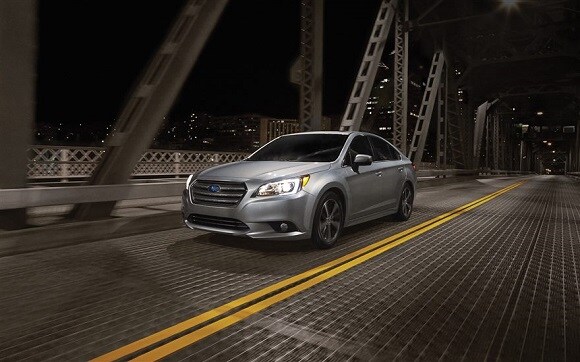 The 2015 Subaru Legacy is the sixth most affordable midsize car out of 21. The ranking is determined by test drives and analysis reports.
The Legacy has agile handling, a standard all-wheel drive system, and high quality interior materials. According to critics, the 2015 Legacy can compete with leaders in its class.
The
2015 Subaru Legacy
has a four-cylinder engine that offers adequate power for daily trips around town. Though, the engine feels somewhat sluggish on the highway. A six-cylinder engine is also an option; it gives drivers improved passing power on the highway.
An automatic transmission and all-wheel drive is standard. The base vehicle achieves an EPA-estimated 26/36 mpg city/highway. These are good numbers for a midsize vehicle with all-wheel drive. Automotive experts believe that the new Legacy provides a comfortable ride because it has nimble handling. The vehicle's strong brakes and efficient steering also improve overall performance.
The 2015 Legacy has firm and supportive front seats, and the rear seats are quite spacious. Though, the truck is slightly smaller than its rivals. A touch-screen infotainment system, smart phone app integration, a UBS input, a rearview camera, and Bluetooth are all standard features. The vehicle also has various safety features, such as a blind spot monitoring system, automatic braking, and a lane departure warning system. Automotive journalists enjoyed using the infotainment system because it has gesture-based controls.
The 2015 Subaru Legacy Wins Top Safety Pick
The Insurance Institute for Highway Safety gave the 2015 Subaru Legacy a good rating. The vehicle received high marks in numerous categories. However, the optional front crash prevention system helped the vehicle earn the Top Safety Pick award.
The last generation Legacy also won the Top Safety Pick award, but designers vastly improved the structural performance for the new vehicle. The driver space is designed resourcefully because the safety cage stops intrusion in the occupant area. During a crash test, the dummy's movement was maintained, and various airbags protected the dummy's head from interior damage. The vehicle also scored good ratings for dummy kinematics, restraints, and injury measures for legs, feet, chest, pelvis, and neck.
The institute also runs an overlap evaluation, which was added to the lineup in 2012. 25 percent of vehicles hit a barrier at 40 mph during this crash test. The test replicates that happens when one vehicle hits another vehicle or a utility pole.
The 2015 Legacy received great ratings for front crash prevention because it has a unique collision warning system with automatic braking. The vehicle also passed the course evaluations because the system stopped the vehicle completely during each crash avoidance test.
Subaru has more 2014 Top Safety Pick awards than any brand. To earn this award, a vehicle must have a good rating for overlap protection and a superior front crash prevention rating.